Season Price: $29.99
TiVo Channels 320 - 333
MLB Extra Innings® from SECV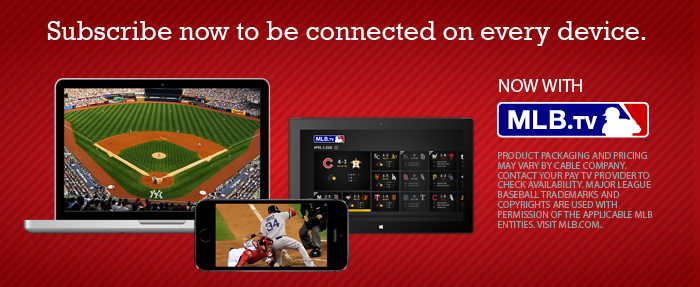 What is MLB Extra Innings®?
MLB EXTRA INNINGS® brings you up to 80 out-of-market regular season Major League Baseball games a week
Even if you live in one city and your team is in another, MLB Extra Innings® lets you see the match-ups you want to watch. The games included on MLB Extra Innings® are in addition to those available on FOX, ESPN, ESPN2, TBS, MLB Network and your local in-market networks (such as a regional sports network and/or over-the-air network)
What Does MLB Extra Innings® Offer Fans?
Get FREE access to MLB.TV and watch LIVE baseball on all of your devices
Catch up on games you may have missed each day with replay games
Dual feeds of select games let you choose your home-town announcers
Preview all games airing on MLB Extra Innings® at once on the mosaic channel
Get up to 24 HD games a week
Requirements:
TiVo or TiVo Stream Only |
MLB Extra Innings® Channels 320 - 333
MLB Extra Innings requires TiVo or TiVo Stream. This package is not available on any other type of converter box. All channels are available in HD. TiVo Stream requires TV service, DOCSIS 3.1 cable modem with a minimum of 24 x 8 channel bonding, and SECV Internet with a minimum download speed of 100M.